I Love South African Sunsets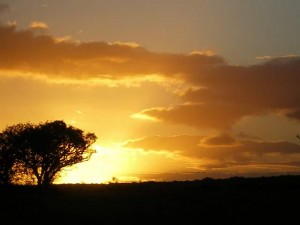 I love South African sunsets-especially today since it is so rainy in Texas.
South African topography is great for sunsets-wide open spaces with dramatic hills and mountains in the background.   One of my best South African memories is watching the sun set with BG when we visited a game reserve.
When people travel to Texas from more wooded areas they remark  how "big" the sky is.  You definitely get that impression in South Africa.   And when you throw in a few "har-dee-dars" flying to their evening roost the moment is complete-and very much South Africa.
I wish I could describe the experience better.  Guess you'll have to go there yourself-you won't regret it!
What do you think?  Please add your comments by clicking on the title above ("I Love South African Sunsets"…)
---
Raymond Pechacek lives in the U.S. and is married to a wonderful South African lady (BG!). He writes about the people, customs, wildlife, and places of South Africa, runs a consulting firm to help companies improve their global trade processes, and imports products into the U.S. - with an emphasis on supporting South Africa!
---

October 26, 2009
Posted in: Geography, Places You Must See