The Har-Dee-Dar Bird: One Of My Favorites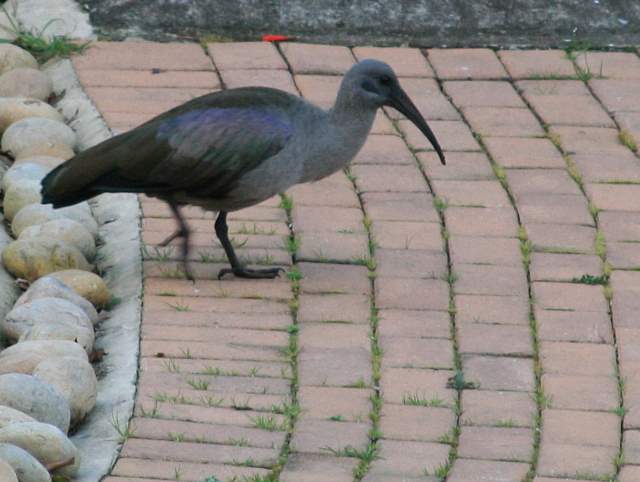 One of my favorite birds in South Africa is the "Har-dee-dar" bird.   It's proper name is the Hadeda Ibis so I can understand where the informal name came from.
Even more telling is listening the Hadeda – it truly sounds like it says "har-dee-dar" as it flys over your house.   And it is LOUD – you can't miss identifying a har-dee-dar.
B.G.'s mom once had overseas guests that stayed in a local hotel.  When they heard the "HAR-DEE-DAR" call in the middle of the night they quickly got dressed and came out of their hotel room – thinking they heard some type of emergency siren!
Har-dee-dars are everywhere in South Africa (at least around the Garden Route where I spend most of my time).  They especially like urban neighborhoods and can be seen grazing next to the roadsides.  They are large birds – not your typically sparrow or grackle.
Each evening they fly in small groups to a nesting location, typically a tree in the neighborhood.  You can hear them call (scream!)  "HAR-DEE-DAR…HA-DEE-DAR" in the evening before they roost (and first thing in the morning on the rare days I try to sleep in!).
Even though they are wild birds they seem very familiar and "part of the family" – kind of like the cat that hangs around your house.  They won't eat out of your hand and fly off when you get near them, but that doesn't stop them from having the run of your yard and neighborhood.  They just keep coming back…
I miss the har-dee-dars when I return to Texas.  There are lots of great bids but none quite as prominent (and loud!) in the neighborhood as the har-dee-dar.  At least I can try to sleep in on those rare days – now if something could be done about the neighborhood dogs…
What do you think?  Please add your comments by clicking on the title above ("The Har-Dee-Dar Bird"….)
---
Raymond Pechacek lives in the U.S. and is married to a wonderful South African lady (BG!). He writes about the people, customs, wildlife, and places of South Africa, runs a consulting firm to help companies improve their global trade processes, and imports products into the U.S. - with an emphasis on supporting South Africa!
---

October 12, 2009
Posted in: Uncategorized, Wildlife